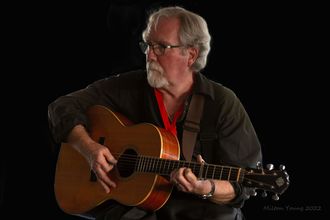 Bob MacLean is a Folksinger and Guitarist with roots in Cape Breton (Glace Bay) and Quebec.  He's best known for his
> Guitar work,
> Folksinging, arranging of traditional East Coast & U.K. songs/tunes
> Playing with various duos including MacTalla Road with Carole Pines
> Hosting ceilidh/sessions - ie Scran & Dram Scottish Public House
> Workshops
The guitar, and more recently the octave mandolin, have all figured prominently in his compositions and his arranging traditional songs and tunes. Bob also frequently holds workshops on key aspects of guitar playing. 
You can find Bob playing solo or with MacTalla Road at pubs, taprooms, museums, porch events, senior residences, summer concert series and festivals. 
Highlights:

* Founder of the Three-In-The-Round - The Single Malt Sessions concert series

* Musician In Residence - McDougall Cottage - 2012/13

* Waterloo Guitar Summit - Founder and Artistic Director

* Accompanist for Gillebride MacMillan (Outlander) - Gaelic Singer from South Uist, Scotland

* MacTalla Road - Trad duo with Carole Pines

* No Borders Project - Duo with Randy Jackiw

* Founder & Host - The Scran & Dram monthly ceilidh/session 

* Fergus Scottish Festival - Performer - 2001 - present

* Four solo CD's. 
You can find lots of my work on YouTube.