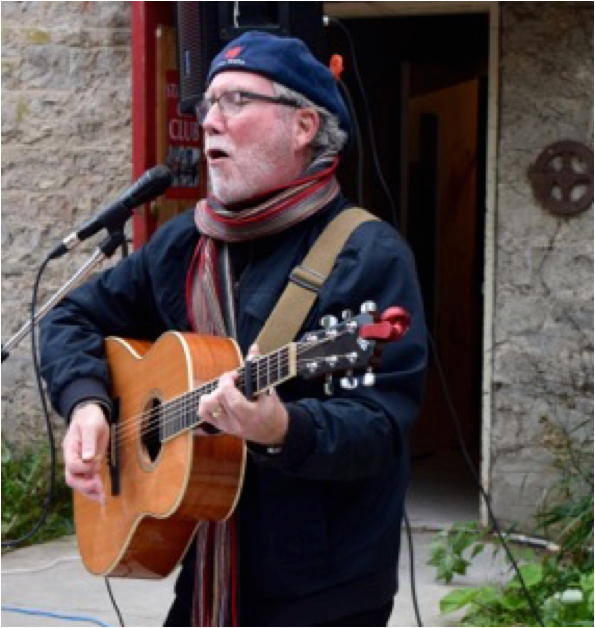 TELLING STORIES....
I am a folksinger, guitarist and song-writer.  While I often do them all together, they are  different things I work at.... either way...when put together, the outcome is a story.
Being authentic is a big deal for me.  Everything I play is a story... I work to present an honest presentation of who I am.... I play, I write, I sing, I tell stories about the songs and tunes, about me, about where I come from, about the songs/tunes and where they come from.  I work to engage EVERYONE with these stories.  I'm also an over-the-moon lover of all things guitar and old trad songs & tunes so I guess that comes through as well 
To add to a performance, I also do workshops on guitar, on arranging, on accompanying (songs, singers and accompanying trad tunes) and on altered guitar tunings. 
I'm always in planning mode and looking for good listening venues to present my stories ... I plan for a good time and look to share it with others. 
Highlights:
* Founder of the Three-In-The-Round - The Single Malt Sessions concert series
* Musician In Residence - McDougall Cottage - 2012/13
* Waterloo Guitar Summit - Founder and Artistic DIrector
* Accompanist for Gillebride MacMillan - Gaelic Singer from South Uist, Scotland
* MacTalla Road  - Trad duo with Carole Pines
* No Borders Project  - Duo with Randy Jackiw
* Founder & Host - The Scran & Dram monthly ceilidh/session
* Fergus Scottish Festival - Performer - 2001 - present
* Four solo CD's.   
Here are some of the YouTube clips of my playing...
    Battle of Waterloo 
https://www.youtube.com/watch?v=-49g9w5ipR4
    Long Black Veil
https://www.youtube.com/watch?v=A40M3nW27V0
    Aragon Mill
https://www.youtube.com/watch?v=mZyYRJd-iYM&t=181s
    Mrs. MacLeod's of Raasay
https://www.youtube.com/watch?v=927esRUXnOg 
    All The Money I Had Is Gone/ Lua
https://www.youtube.com/watch?v=x7quupSghLk